Latest Workshop Series @Awesome ESL 2022-2023!
Updated: Jun 7
At Awesome ESL, we are abundantly happy and excited to announce our latest workshop series, updated for 2022-2023! Video here!
We have some super-exciting workshops on the go - fully updated and raring to go.
Due to the phasing out of Adobe Flash in December 2020, many online games and activities no longer work, if the website developers haven't updated their materials with the latest code (HTML5 etc.)
Look and sound familiar?
This is why we have done our due diligence and have found the most up-to-date materials which we would love to share with you.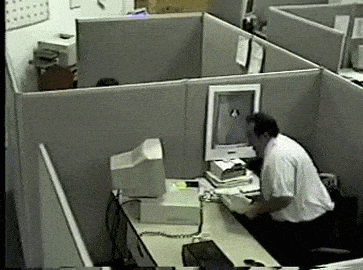 Many of these materials are fully adaptable to suit your students' needs. Set yourself apart from the other boring, 'dry' chalk 'n talk teachers! Engage, inspire and involve your students!
Just so that you don't have to resort to this (see the frustration...) Yeah... the struggle is real... collectively, we're pretty sure many can relate the the overwhelming frustration of things not working!
But, good news! Hope is on the the way!
Workshop Overview
These workshops aim to be attendee-focused - you are very much encouraged to participate actively and even show case your thoughts, ideas, experiences, should you wish.

Or, at the very least, add to your skill-set. One which can be harnessed, adapted and used for your students and classroom.

Get an attendance certificate and a badge for your social media*. More stuff on that later.

Space limited to 10 places. Maybe 15 if there is enough interest.

Opportunity to co-host workshops. See details below.

Tons of editable templates and resources offered.

Find out how to empower yourself and make money from your self-made resources (worksheets, games, activities etc.).
Affiliates & Co-Hosts
One awesome thing about the ESL industry is the willingness for others to generously share, many times at little to no cost, their creations.
We have been in direct contact with the webmasters and brains behind these wonderful resources, and have invited them to collaborate with us! More details on registration form.
In addition to having said this, it would be remiss of us to not give them a well-deserved shout out.
Kindly consider offering your support to the following wonderful folks:
ABC Teach - Sandy, Activities for ESL Students, All Kids Network, All Things Grammar & All Things Topics - Robert Dobie, Answer Garden, Awesome ESL, Baamboozle - Ronan, Better @ English - Lori, Blooket - Tommy & Ben Stewart, Breaking News English - Sean Banville,
British Council (Learn English Kids & Learn English Teens), Busy Teacher, Buy Me a Coffee - Jinjo & Joseph Sunny, Canva, Captain English Songs - Denise Voltolini & Romulo Carvalho, Class Tools, Discovery Education, Ed Games - Jeff Ertzberger, Edu Blogs, Educa Play, Educandy, Education, EduTopia, ELT Buzz - David Deubelbeiss, Eng Vid, EnGames, English Banana, English Language Teaching Resources, English Time, English with Adam, ESL Games, ESL Games Plus, ESL Kid Stuff, ESL Printables, Explayn - Alex & Anna Neil, Film English - Kieran Donaghy, Flex Clip, Flippity - Steve, Fun Brain & Fun Brain Jr., Fun English Games, Games 4 Gains - Brittney, Games to Learn English, Genially, Google Docs, Google Forms, ISL Collective - Peter Laszlo, Kahoot!, Learning Apps, Learning Chocolate, Lesson Stream - Jamie Keddie, Life Wire, Live Worksheets - Viktor, Lyrics Training, Mentimeter, MES English - Mark Cox, Movie Segments for Warm-ups & Follow-ups - Claudio Azevedo, Movie Segments to Assess Grammar Goals - Claudio Azevedo, Multi Media English - Angel Castaño, My Simple Show - Matt Wilson, Online Stopwatch, Oomongzu, Opinion Stage, Padlet, PDF Escape, Play Posit, Powtoon, Prezi, Pro Profs, Purland Training - Matt Purland,
Purpose Games, Quick Worksheets, Quizalize, Quizizz, Quizlet, Real English For Gamers - Kevin, Sanook English - Jason & Au, Save from Net, Songs and Activities for English Language Learners - Sandra Heyer, Super Simple Songs, Survey Maker, Teacher Training Videos - Russell Stannard, Teaching Tracks - Chris Walklett, TED Ed, The Singing Walrus, The TEFL Development Hub - Teresea Bestwick, Tune into English, Wheel of Names - Fergal,
Wizer, Word Wall
Plus many, many others, apologies if they were not mentioned, sometimes things go amiss.
Be sure to vote here for who you would like to see make an appearance in our workshops, and let's give them the love and appreciation they deserve!
List of Workshops (updated for 2022-2023)
Finally, after much research and consideration, here are the updated, state-of-art, kick-ass series of workshops on offer:
1: (Kickass) Tutors' Interactive Game, Worksheet & Activity Workshops
1.1: (Kickass) Tutors' Interactive Game, Worksheet & Activity Workshop Overview
1.2: Video Production & Uses for the Classroom
1.3: Gamification in Education
1.4: Online/Offline Worksheet Creation
1.5: Using Songs & Music in Lessons*
2: (Kick-Ass) Grammar Bootcamp
2.1: Grinchy Grammar Overview
2.2: Punchy Parts of Speech
2.3: Intense Tense Review
2.4: Crafty Conditionals
3: IPA Magic - Perfect Pronunciation
3.1: IPA Overview
3.2: Monophthongs
3.3: Diphthongs & Triphthongs
3.4: Consonants
4: Focus on Young Learners & Teens
4.1: YL & Teen Lessons Overview
4.2: Using Songs & Music in Lessons*
4.3: Interactive Online Classroom Ideas
4.4: Gamification in Education
5: Exam Preparation Courses
5.1: Cambridge Exam Courses - KET, PET, FCE, CAE, CPE
5.2: IELTS & TOEFL - Fun?!?
5.3: Cambridge YLE - Starters, Movers & Flyers
5.4: Other Exam Courses
6: English for Specific Purposes
6.1: Business English
6.2: English for Academic Purposes (EAP)
6.3: Conversational English - Coffee & Culture Clubs
6.4: Improving Your Students' Five Macro Skills - Speaking, Writing, Listening, Reading & Watching
7: Creating a Kick-Ass Online Presence
7.1: Online Overview
7.2: The Basics: Webpage & Social Networking
7.3: Branding & Logos
7.4: Materials Creation
8: Nifty Tools for Breaking Down the 4th Wall
8.1: Polls & Surveys
8.2: Videos, Music & Songs
8.3 Games & Quizzes
8.4 Activities & Worksheets
Workshop Registration
If any of the above workshops tickle your fancy, please consider registering here, asap!
Co-Host With Us!
Feel you have some pearls of wisdom to share? We would like to give YOU the opportunity to co-host workshops. Any donations/money received will be shared with you fairly. It will be meted based on merit (i.e. the more input, the greater the reward) that is mutually-beneficial to all parties involved.
Professional Development - Dear Head Teachers & Language Centre Owners
If you are a Head Teacher or a Language Centre Owner and want to improve the quality of activities your teachers offer students - this is for your teachers! Contact us.
Interactive Websites & Resources Survey (2022-2023 Update)
In order to offer the most up-to-date materials, it would be greatly appreciated if you take the time to complete our online survey. In return for your time, you will be given the opportunity to request downloadable copies of an Awesome e-Resource Database and/or Templates for Song Worksheets & Activities. See details in the Google Form.
All Love, Peace & Light
Many thanks for your support over time, it is very much appreciated! Yours in love, peace and light, as always, Di